Description
Designed for powerful SDI switchers, Blackmagic Studio Camera 4K Pro G2 adds professional 12G-SDI and 10G Ethernet connections. That's perfect when the camera is located a long distance from a switcher. There's a 12G‑SDI output and a 12G‑SDI program return input that includes camera control, talkback and tally. You also get the same powerful HDMI output with control features. Plus the 10G Ethernet connection allows all connections on a single cable for a SMPTE style workflow that's much lower cost.
Camera Features
Effective Sensor Size
17.78mm x 10mm (Four Thirds)
Lens Mount
Active MFT Mount.
Lens Control
Iris, focus, zoom on supported lenses.
Dynamic Range
13 Stops.
Dual Native ISO
0dB and 18dB gain.
Sensitivity at 0dB Gain
f11 with 2160p59.94.
f12 with 2160p50.
at 2,000 lux with 89.9% reflectance.
Signal to Noise Ratio
63dB for 2160p.
Shooting Resolutions
3840 x 2160 (Ultra HD) up to 60 fps.
Frame Rates
23.98, 24, 25, 29.97, 30, 50, 59.94 and 60 frames per second.
Off-speed frame rates up to 60 fps in Ultra HD.
Focus
Auto focus available using compatible lenses.
Screen Dimensions
7 inch 1920 x 1200
Screen Type
LCD capacitive touchscreen.
Screen Brightness
2000 nits
Controls
Touchscreen camera settings and menus with rotary settings dial, program button, F1, F2 and F3 assignable function buttons, brightness contrast and peaking dials.
Mounting Options
2 x 1/4 inch tripod mount.
1 x 3/8 inch tripod mount.
Connections
SDI Video Inputs
1
SDI Video Outputs
1
SDI Rates
1.5G, 3G, 6G, 12G.
HDMI 2.0 Video Outputs
1
Analog Audio Input
2 x XLR analog switchable between mic and line levels. Phantom power support.
1 x 3.5mm Stereo Input. Can also be used for Timecode input.
Analog Audio Output
1 x 5-pin XLR for talkback headset.
1 x 3.5mm TRRS mini jack for headphones with mic.
Reference Inputs
Tri-Sync or Black Burst when used with optional Blackmagic Studio Converter.
Program SDI Input on camera or on Blackmagic Studio Converter.
SDI Audio Output
2 channels of program audio embedded in 1.5G/3G/6G/12G-SDI. 2 talkback channels on 15 and 16
Remote Control
Remote camera control over SDI, HDMI or Ethernet.
Ethernet
10Gb/s
Computer Interface
2 x USB Type‑C 3.1 Gen 1 (up to 5Gb/s) expansion ports for external recording and focus / zoom demand connection. Software updates using USB‑C Port A.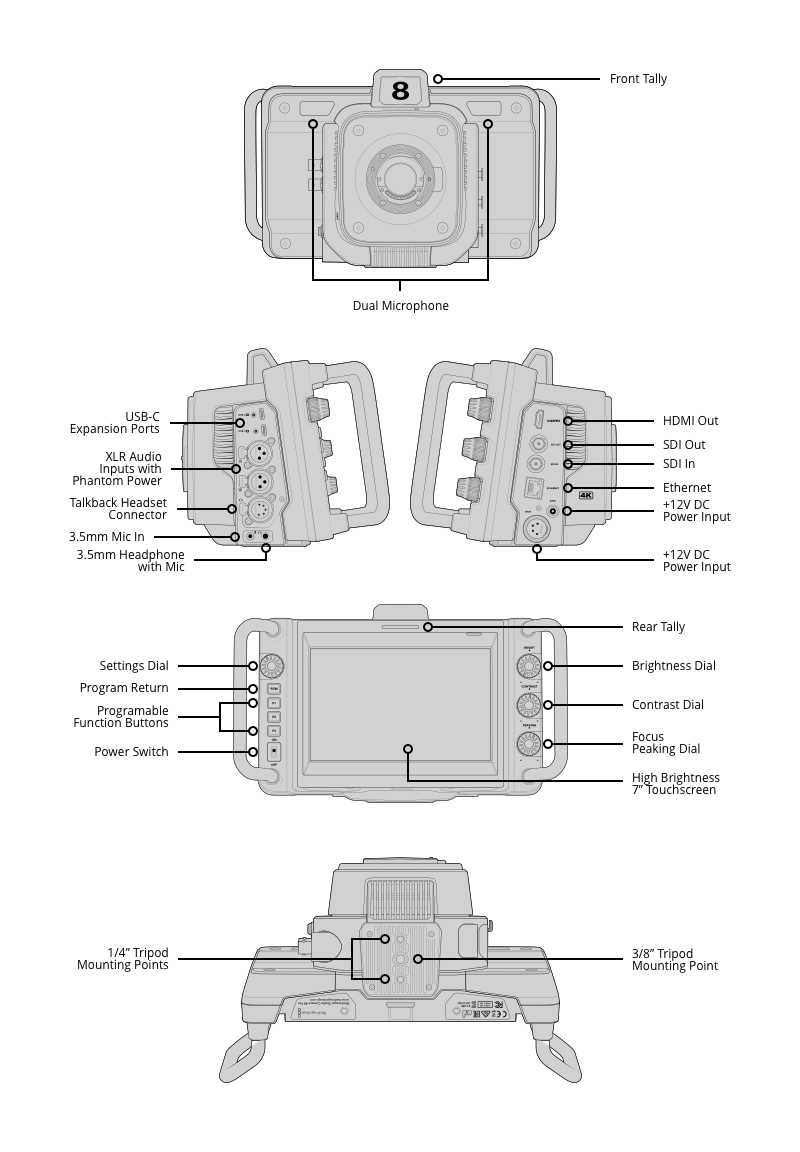 Audio
Microphone
Integrated stereo microphone.
Built in Speaker
1 x mono speaker.
Streaming
Direct Streaming
Blackmagic Studio Camera 4K Pro G2 supports direct live streaming using Real Time Messaging Protocol (RTMP) over ethernet or a shared mobile internet connection over USB‑C.
Streaming Platforms
ATEM Television Studio HD8 ISO, ATEM Streaming Bridge, Facebook, Twitch, YouTube, Twitter, Restream.IO, Vimeo, BoxCast, Castr, Afreeca TV, Bilibili, DouYu, Weibo.
Standards
SD Video Standards
None
HD Video Standards
1080i50, 1080i59.94, 1080i60
1080p23.98, 1080p24, 1080p25, 1080p29.97, 1080p30, 1080p50, 1080p59.94, 1080p60

Ultra HD Video Standards
2160p23.98, 2160p24, 2160p25, 2160p29.97, 2160p30, 2160p50, 2160p59.94, 2160p60

SDI Compliance
SMPTE 292M, SMPTE 424M, SMPTE 425M level A and B, SMPTE 2081‑1, SMPTE 2081‑10, SMPTE 2082‑1 and SMPTE 2082‑10
SDI Audio Sampling
Television standard sample rate of 48 kHz and 24‑bit.
HDMI Audio Sampling
Television standard sample rate of 48 kHz and 24‑bit.
Media
Media
2 x USB-C 3.1 Gen 1 expansion ports for external media for recording Blackmagic RAW.
Media Format
Can format media to ExFAT (Windows/Mac) or HFS+ (Mac) file systems.
Storage Features
Storage Type
2 x USB‑C 3.1 Gen 1 expansion ports for external media.
Recording Formats
Blackmagic RAW 3:1, 5:1, 8:1, 12:1, Q0, Q1, Q3 and Q5 in Ultra HD 3840 x 2160 at the selected frame rate.
Storage Rates
Storage rates based on 30 frames per second.
3840 x 2160 (Ultra HD)

Blackmagic RAW 3:1 - 127 MB/s
Blackmagic RAW 5:1 - 77 MB/s
Blackmagic RAW 8:1 - 48 MB/s
Blackmagic RAW 12:1 - 32 MB/s
Blackmagic RAW Q0 - 96 to 190 MB/s
Blackmagic RAW Q1 - 64 to 153 MB/s
Blackmagic RAW Q3 - 43 to 109 MB/s
Blackmagic RAW Q5 - 26 to 64 MB/s

Control
External Control
Blackmagic Zoom Demand and Blackmagic Focus Demand for controlling your camera and lens from tripod handles.
Blackmagic Control Protocol over SDI and HDMI for external control when used with a compatible ATEM switcher with ATEM Software Control or ATEM Camera Control Panel. Includes control of some camera settings, focus, iris and zoom with compatible lenses, color corrector, tally and record start and stop to external media via USB expansion port.
Camera Control REST API over Ethernet or USB Ethernet for external control via HTTP when used with REST client applications such as Postman.
Network Management
NTP
Network time protocol support allows you to sync the time on your camera, whenever connected to a network with any NTP server of your choice.
Web Media Manager
Using a browser connected over Ethernet, web media manager allows you to access, browse, download and delete files from any drive connected to the camera.
FTP
Download files from any drive attached to your camera using FTP.
SMB
File sharing using SMB
Talkback and Tally
Live Tally Indicator
1 x front facing for talent,
1 x rear facing for operator.
Talkback
SDI Channels 15 and 16.
Power Requirements
Power Supply
1 x External 12V DC 60W power supply.
Power Inputs
1 x 12V DC locking 5.5 mm barrel connector.
1 x 12V DC 4 pin XLR input for external power supply or battery use.
1 x RJ45 Ethernet connector for power from Type 4 PoE power supplies.
Power Usage
26 ‑ 40 W using DC input.
30 ‑ 46 W using PoE input.
Optional Accessories
Blackmagic Focus Demand
Blackmagic Zoom Demand
Blackmagic Studio Converter
ATEM Mini switchers
ATEM Television Studio Pro switchers
Blackmagic 3G‑SDI Shield for Arduino
Physical Specifications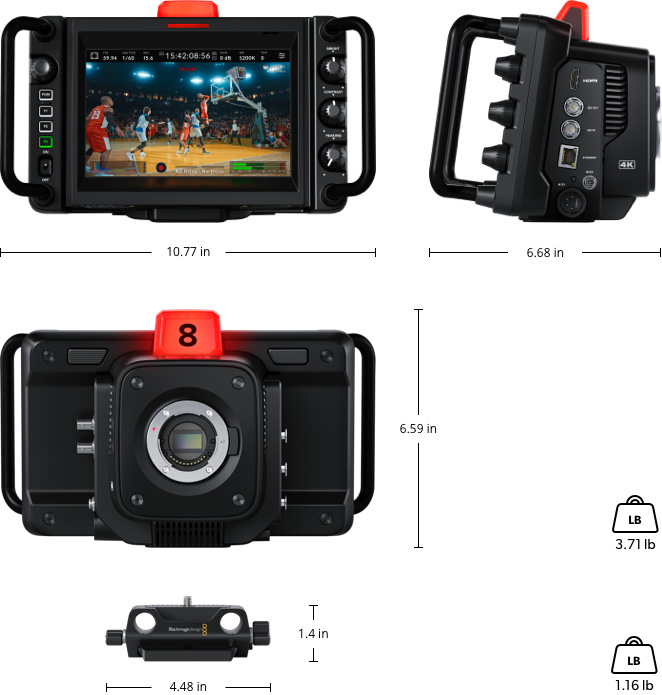 Environmental Specifications
Operating Temperature
0° to 40° C (32° to 104° F)
Storage Temperature
-20° to 45° C (-4° to 113° F)
Relative Humidity
0% to 90% non-condensing
What's Included
Blackmagic Studio Camera 4K Pro G2
Blackmagic Studio Camera Sun Shade
Tripod Mount compatible with 15mm lightweight rails
Turret Dust Cap
External 12V DC power supply with locking connector and international sockets adapters for most countries.
Features
Description
You can use this description to display some useful information to your customers.
Shipping & Returns
You can use this description to display some useful information to your customers.